The best sports and fitness deals at Walmart's Black Friday sale today
6 min read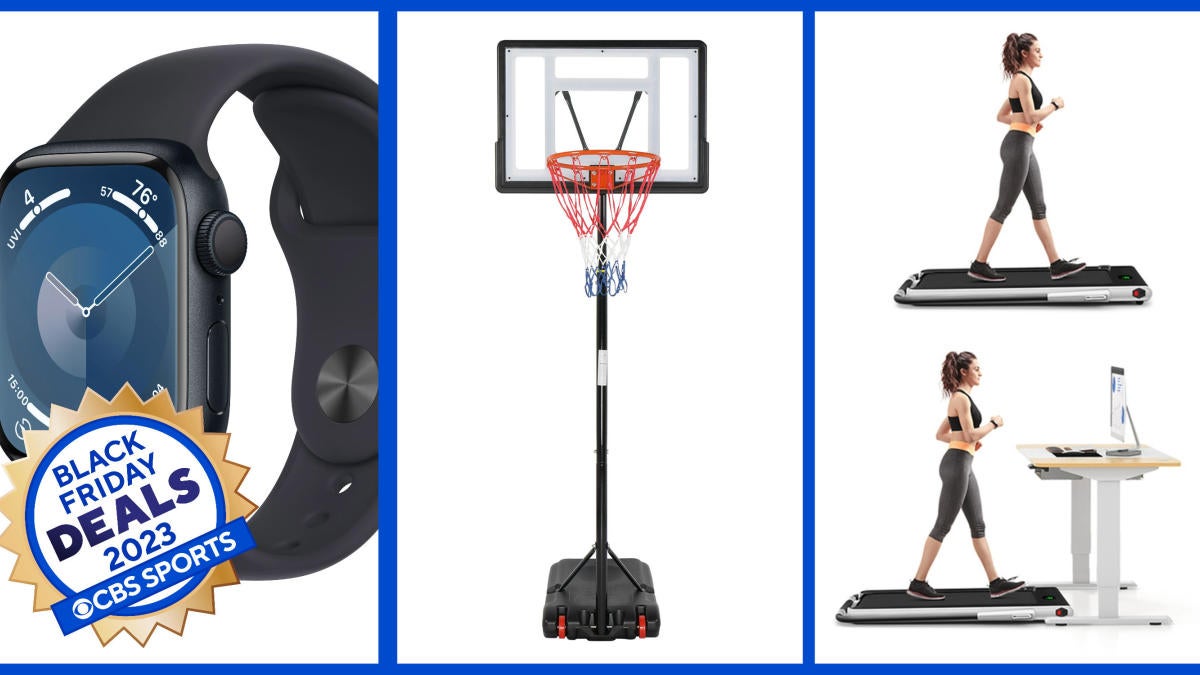 Black Friday is coming early this year for Walmart shoppers. The retailer is having the first of three Black Friday sales events this month — and the first one begins today.
Starting now, Walmart is offering tons of early Black Friday deals on our favorite sports equipment, fitness tech, and more. One of the best Walmart Black Friday deals is this 2-in-1 under desk treadmill which dropped to $240 today. That's half off of its regular price of $479.
And that's not all. The new Apple Watch 9, home gym equipment and tons more have all dropped to some of their lowest prices ever during Walmart's pre Black Friday sale.

Shop all Walmart pre Black Friday deals


---
The best early Black Friday sports and fitness deals at Walmart
From under-desk treadmills and stationary bikes to our favorite gym headphones, here are the best Walmart Black Friday deals you can get at the retailer's first sale event of the month.
SuperFit 2-in-1 treadmill (50% off)
With a speed range of 0.6 to 7.5 mph, you can walk or run at your own pace on this SuperFit 2-in-1 treadmill. Stick to the slower pace so you can walk while you work to meet your daily step goals. Then, raise up the handrail for a 5- to 10-minute sprint in between meetings or on your lunch break. 
The multi-purpose treadmill also comes with a built-in media shelf, perfect for holding a tablet or phone. So you'll be able to watch a show or stay tuned into work presentations and zoom meetings during your high intensity cardio sessions. 
During Walmart's pre-Black Friday sale, the retailer is offering the 2-in-1 treadmill for just $240 (reduced from $479). 
---
Save 35% on the Sunny Health & Fitness SF-E905 elliptical
The Sunny Health & Fitness elliptical comes in at $300 regularly, but you can get it during Walmart's pre Black Friday sale for just $195. The affordable elliptical features 8 adjustable resistance levels, a maximum weight capacity of 220 pounds, and a sturdy, stable design that stays in place even during your most intense workouts.
But its most standout feature is the detailed performance monitor. There's no need for an added subscription to track in depth metrics like heart rate, rotations per minute, distance and more. You can see all of that on one convenient display and then just log it on your preferred fitness app after. So for those who are following a specific training plan or want to improve a particular performance metric, this budget elliptical is a great pick.
---
Get a pair of Apple AirPods (second generation) for just $69 ($60 off)
One of Walmart's best pre Black Friday deals is on the second-generation Apple AirPods. Retailing for $129 (and often available at Amazon for $99), these top-rated earbuds will be just $69 at Walmart starting Nov. 8.
Featuring up to 24 hours of battery life with the included wired charging case and crystal clear audio, these are the best Apple AirPods you can get under $100. The second generation AirPods are easy to set up and make it easy to switch between devices. Plus, they boast an IPX4 water resistance rating, which means they can stand up to a sweaty gym workout.
Pick up a pair for yourself, or a pair to gift to someone this holiday season. (At this price, why not do both?)
---
Save 45% on the Duke Lulu Pickleball paddle and ball set
This colorful and durably constructed set include four pickleball paddles and a variety of balls for both indoor and outdoor games. A bonus set of two foam-head cricket balls are also thrown in along with a mesh bag to carry it all.
Whether you're new to the sport or just looking for a new set, this is one of the best deals you'll find. The complete set is regularly priced at $46 but, starting today, you can get it at Walmart for just $25.
---
Get the latest Apple Watch (Apple Watch 9) at its lowest price yet
The long-anticipated Apple Watch 9 just hit shelves in September — so we almost can't believe Walmart is already taking $50 off the price of the latest generation smartwatch during its first Black Friday event of the month.
Featuring new and improved Siri Health functionality, a new double tap gesture and other cool upgrades, the Apple Watch 9 normally retails for $399 and up. But on Nov. 8, shoppers can get it for as low as $349 at Walmart.
This would be the first real discount on the Apple Watch 9 we've seen, so this pre Black Friday deal will likely be in high demand.
---
Get a smart, connected stationary bike for under $500: Echelon EX5
If you like the idea of an immersive exercise experience like Peloton's — but not the four-digit price tag — the Echelon EX5 is the stationary bike for you. The 32 levels of quiet resistance give you variety in your workout, allowing you to capture the flats of HIIT training and the steep inclines in an epic hill ride. It even comes with a dumbbell rack on the back to stash your weights when you want to do a combined cardio and strength-training workout.
With an Echelon Premier membership added on, you also get access to over 3,000 live and on-demand virtual classes as well as exclusive playlists and other premium features. Best of all, one membership can be shared by up to five users. (Echelon Premiere is $40 per month or $700 for two years; a 30-day free trial is included.)
At Walmart, you can get the smart stationary bike for just $420 (reduced from $1,200).
---
Save over 50% on the Ktaxon basketball hoop
This portable basketball hoop features an adjustable height ranging from 5.2 to 6.9 feet so everyone in the family can enjoy practicing their dunk shots and perfecting their free throw. It's lightweight enough to wheel it around to different locations with ease but sturdy enough to stay upright during your game. Set it up on your driveway when the weather's nice and wheel it into your garage to keep up your practice even when it's too cold outside.
Right now, you can get this portable basketball hoop for just $56 at Walmart (reduced from $116).
---
Shop more Walmart pre Black Friday sports and fitness deals
---
When does the Walmart pre Black Friday sale start in 2023?
The first Black Friday sale at Walmart starts on Wednesday, Nov. 8 at 12 p.m. ET (9 a.m. PT) for Walmart+ members and at 3 p.m. ET (12 p.m. PT) for everybody else.
When does Walmart's real Black Friday sale begin?
This first event will run until Nov. 10, but the retailer has two other rounds of deals planned this month, too. The next one starts on Nov. 22 at 3 p.m. ET — or 12 p.m. ET for Walmart+ members — and runs until Nov. 24, the actual day of Black Friday. The month of major savings will wrap up with Walmart's Cyber Monday sale on Nov. 27.
How to get early access to all of Walmart's Black Friday deals
While Walmart's Black Friday deals will be open to all shoppers when the sale officially begins, Walmart+ members will get early access starting at 12:00 pm ET, that's a three-hour head start to each event this year.
So if you're not a member already, make sure to sign up soon. Normally priced at $98 for a year, the retailer is giving shoppers a chance to get a full year of Walmart+ membership for just $49 right now. But the deal only lasts for a week, until the Walmart pre Black Friday sale starts.
Early access to Black Friday deals are reason enough to get your membership, but Walmart+ members get tons of other perks, too. We're talking free shipping, free same-day delivery from a local Walmart, discounts on gas and prescription drugs and free access to Paramount+.
---
Related content on CBS Sports

link